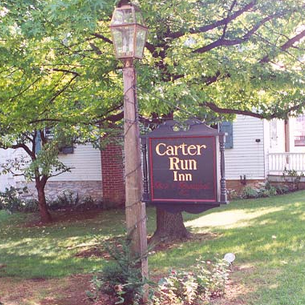 The Carter Run Bed and Breakfast, located in Lancaster County, reflects a typical Pennsylvania German home built in 1865. The white clapboard house is situated on 2.5 acres which includes beautifully landscaped grounds that encompass extensive gardens, including flowering fruit trees and a fishpond. A winding stream, the Carter Run, is encountered at the rear of the gardens; thus the name of this early American bed and breakfast. Lady, the resident Appaloosa mare will be sure to greet you on your stroll throughout the property.
There is a calm serenity at Carter Run Bed and Breakfast. You may wish to curl up with a book in front of a warm fire in the living room or simply relax in a rocking chair on the side porch. Whatever your delight, you can be certain that it will not be interrupted by the noise of television or telephones. A delicious, nutritious complimentary breakfast is served at the leisure of the guests in the morning.
Business persons will find Carter Run B&B most appealing, as they are able to set up their "office away from the office" without interruption.
The Bed and Breakfast is filled with period antiques. We are listed in the Lancaster County Heritage Register. And right in the middle of Lancaster's Amish Country.